As you may have guessed from the number "5" these paw print cookies were for a fifth birthday party. My daughter recently turned 5 and she had a doggie & kitty themed party. The paw print cookies were part of that pink and teal collection. You can learn more about the cat cookies here and the dog cookies here.
I had lots of fun making these little cuties and have some tips to make them even better next time.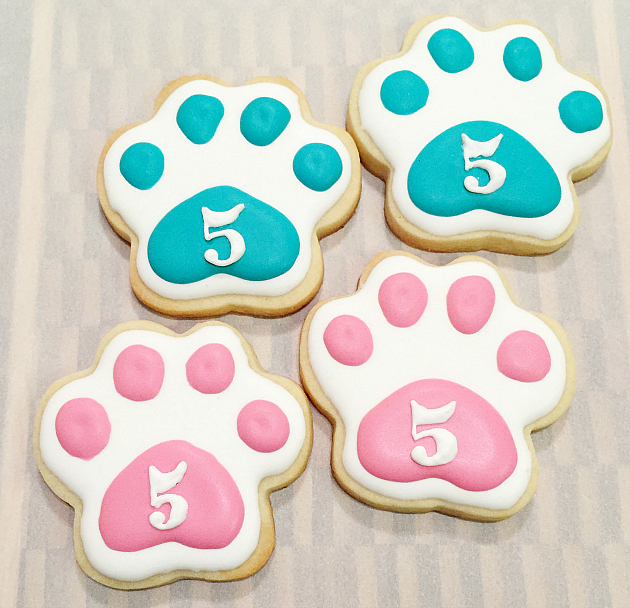 How to Decorate Paw Print Cookies
Materials Needed:
Paw print cutter (I used the one fom the Wilton Pet set)
White 15 second icing and medium consistency royal icing
Pink 15 second icing
Teal 15 second icing
Round tips #1 & #3
Scribe tool
I really liked the idea of a clean and uniform look so to make these cookies I began by outlining and flooding the entire paw print with 15 second white icing. Let dry overnight. Alternatively you could skip this part and pipe the paw pads directly onto the naked cookie.
Next I piped four circles for the toes and some icing for the heel pad which I shaped into an upside down rounded heart with he scribe tool. I used 15 second icing for this but if you look closely you can see some cratering in the toe pads (but not the heel pads). Cratering happens when air bubbles are released during the drying process.
If you want to avoid this then you can try one of two things: 1) Run the scribe tool through each toe pad in a circular motion to break up any air bubbles (you'll notice there is no cratering in the heel pad, that's because I used the scribe tool through it a lot to shape it into the rounded heart), or 2) use thicker icing which is less prone to cratering.
Let the icing completely dry.
To make the "5" on each cookie I first searched the internet for a font I really liked. Then I scratched the image into my cookie with the scribe tool. Because I did this freehand there is some variation from cookie to cookie. If you want more uniformity you could always use a stencil.
Next I piped the "5" onto the cookie using a tip #1 and medium consistency icing. Shake the cookie back and forth through the air to help smooth it out.
The paw print cookie lends itself very well to a birthday set as you can fit the age or a short name onto the paw print. You could also just leave it plain and it would still be very sweet.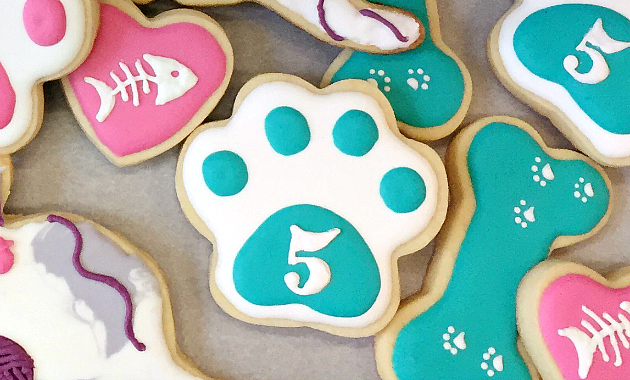 Here they all are together: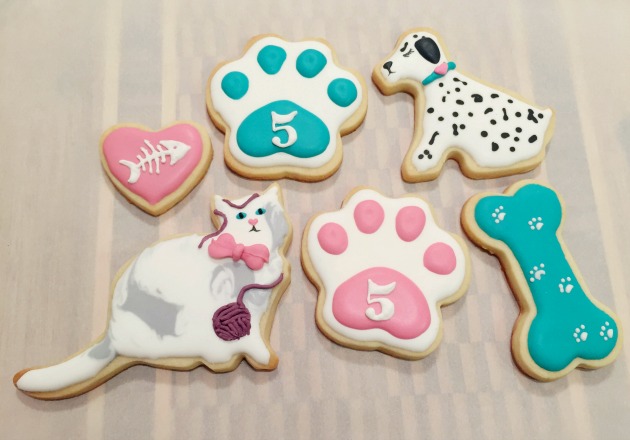 The cookies were a hit at the party and some of the kiddos preferred the kitties and some preferred the dogs.
What about you? Are you a cat person or a dog person?