Recently we celebrated my son's first birthday. How did the first year fly by so quickly? How did the tiny infant sleeping on my chest turn into the smiley boy chasing after his big sister and climbing everything in sight? Sometimes time goes by too fast.
Ever since he was a newborn my son has been obsessed with elephants. We have a cartoon elephant on the fridge that my daughter colored in pink and every time we're in the kitchen he dives over my shoulder trying to get at this elephant. So naturally I wanted to have an elephant themed birthday party for him.
I decided to make chocolate elephant lollipops which I could use as both a cake topper and as a party favor. The birthday cake was a Neapolitan cake so I flavored the lollipops with strawberry extract to tie everything in together.
These chocolate elephant lollipops were ideal for the birthday party but they also would be really cute to make for a baby shower.
Things You'll Need:
Elephant Chocolate Lollipop Mold. This is the one I used and there are lots of other cute elephant lollipop molds on Amazon.
Lollipop Sticks. I used 4 inch paper lollipop sticks but double check the instructions for your mold to be sure you buy the right size.
Candy Melts. Wilton pre-colored candy melts make your job super easy. I used Bright White for the tusks, Pink for the ears and toes and Blue for the rest.
Flavored Oil. (Optional) The candy melts are flavored (most are vanilla unless you buy the limited edition flavored ones) but you can also add flavoring to make things extra special. Be sure to use an oil-based flavor such as the ones from Lorann so the chocolate doesn't seize. For these elephants I used strawberry oil.
Fine Paint Brushes. Buy a set of fine paint brushes and keep them exclusively for use with food (candy melts, luster dust, gel food colors).
Mason jars. One for each detail color.
Larger container. I used a rectangular tupperware container but you can use anything that will fit your mason jars.
Microwave or Heat-Safe Bowl.
Treat Bags with Twist Ties. If you're giving your chocolate elephant lollipops as gifts or favors then you'll want to wrap them up.
How to Make Chocolate Elephant Lollipops
Think about your lollipops in terms of layers. You want to do your details first.
Paint Your Details: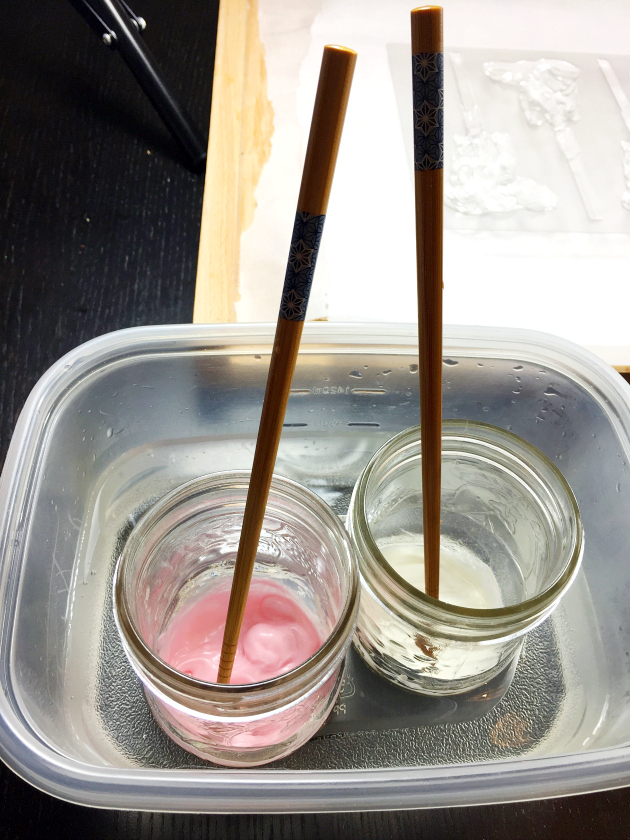 For adding small details I like to put a few candy wafers into a mason jar and put the jars into a tupperware container filled with hot (not boiling) water. I stir them with a chopstick and dip my paintbrush in to paint the colors – one paintbrush per color.
As needed remove the mason jars and refill the container with hot water. It's important to remove the jars first so there's no risk of water splashing into them. Water makes chocolate seize.
Since the quantity of accent color is very small there's no need to add flavoring to them.
If you need to take a break then go ahead. Put a cover, such as a ziplock bag, over the top of your mason jars to keep dust out. When you're ready to get back to it then put the jars back into a hot water bath and wait for the candy to melt.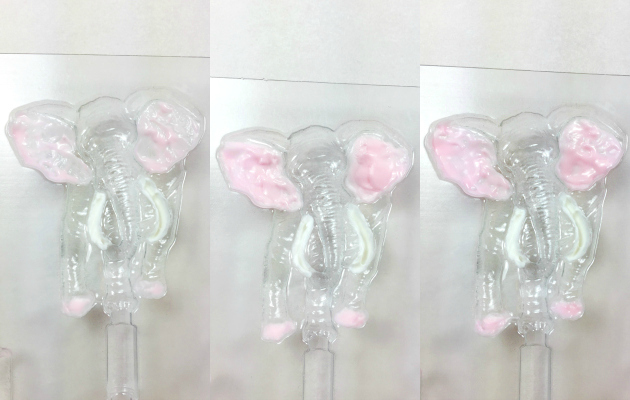 I found that I needed three coats of candy melts. The first coat takes the longest because you want to make sure you're getting the candy exactly where it needs to go.
The second and third coats are less exact. You just want to make sure you're globbing it on and not melting or brushing away the earlier coats.
The above photos show the three coats of pink.
Prepare Your Main Color:
I was lucky that my mold stated that I could make 15 elephants per pound of chocolate. Not all molds let you know this so for reference my elephants are 3″ x 2 1/2″ x 1/2″.
So, then I did a little math. My Wilton candy melt bag is 12oz (340g) which is 0.75 of a pound so I can make 11.25 elephants per bag (15 x 0.75). Next I wanted to figure out how much chocolate per elephant (let's forget about the details already painted in). 340 grams divided by 11.25 is 30.22 grams per elephant. Four elephants per tray means I need 120 grams per batch.
While you *can* melt the candy melts in the microwave directly inside the decorating bags I don't recommend it if you're flavoring the candy. Melt the candy melts either in a microwaveable bowl in the microwave or in a heat-safe bowl using the double broiler method.
Add the flavoring. I recommend using 2 drops per 120 grams (both times I accidentally added 3 drops and the strawberry was a little more intense than I intended. Still yummy, but intense). Stir to combine. If using a double broiler make sure to dry off the underside of the bowl thoroughly.
Pour into 12″ plastic decorating bag and snip a small hole in the bottom.
Fill The Cavities:
The most important thing to remember is to be careful and not overfill the cavities. Go slow, you can always add more but you can't take it away.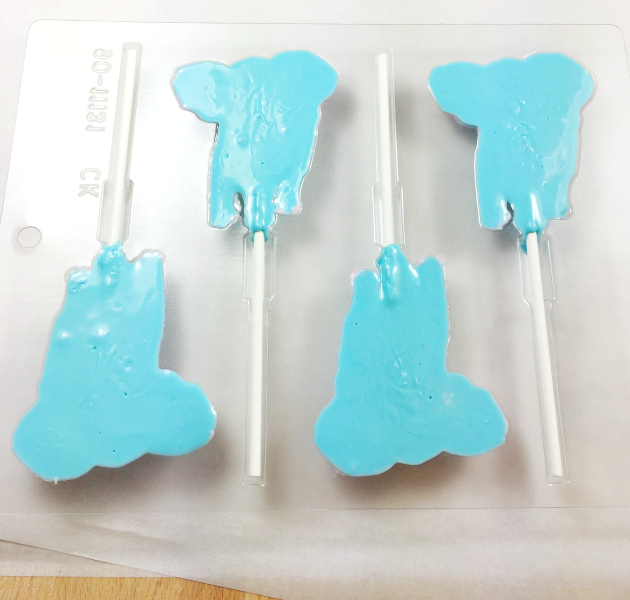 Squeeze a little melted chocolate into the lollipop stick section, add the lollipop stick, and then fill the rest of the cavity.
Tap the tray against the table several times until all the air bubbles have escaped.
Pop into the freezer for 10-15 minutes.
Flip the mold over onto some parchment paper and gently peel it back. The chocolate elephant lollipop should pop out.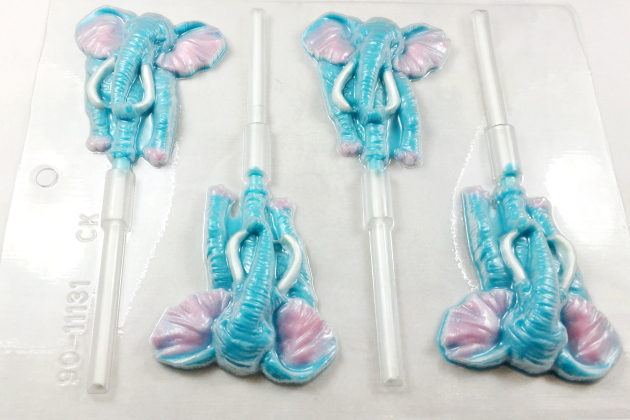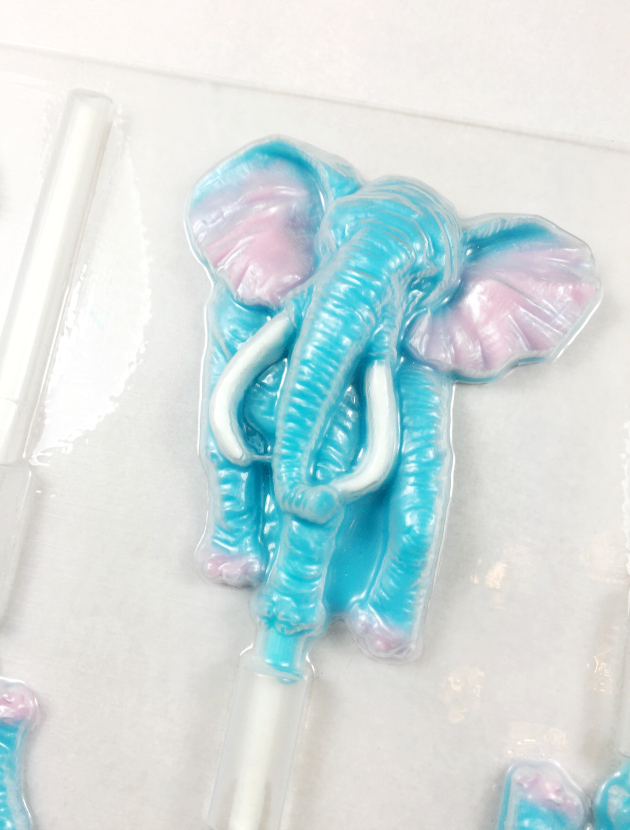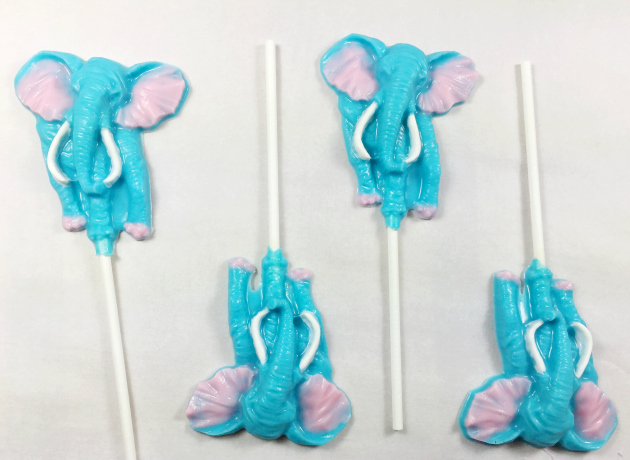 Fixing Mistakes:
I don't know if you noticed but when I was painting the details above I completely forgot to paint one of the feet. Oops!
Not to worry. If you ever miss a small detail like this it can be easily fixed.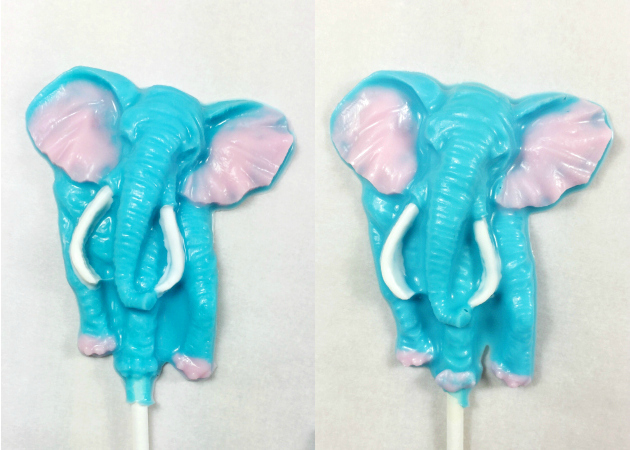 Take your melted pink chocolate and paint over the foot. Work quickly and just dab the pink chocolate on. You don't want to melt or brush off the already set foot.
Phew, all fixed.
Ways to Use Your Chocolate Elephant Lollipops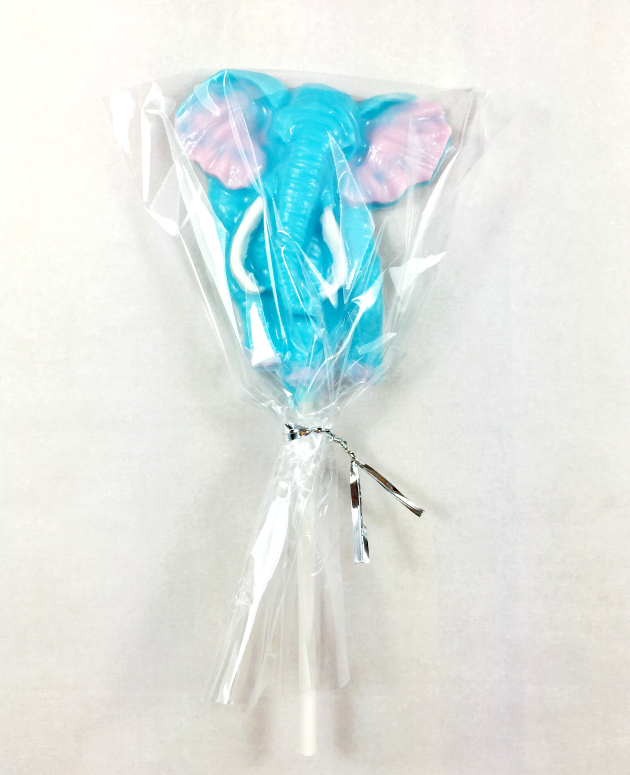 Wrap your chocolate elephant lollipops in treat wrappers and give away as gifts or party favors.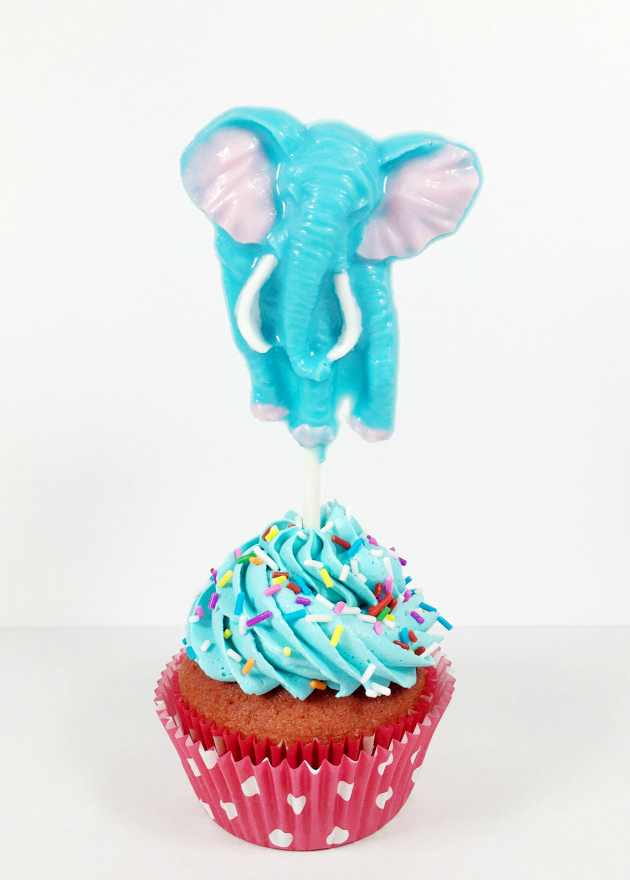 The elephant lollipops also make cute edible cupcake toppers. (I matched the shade of blue by tinting my buttercream with Americolor Sky Blue).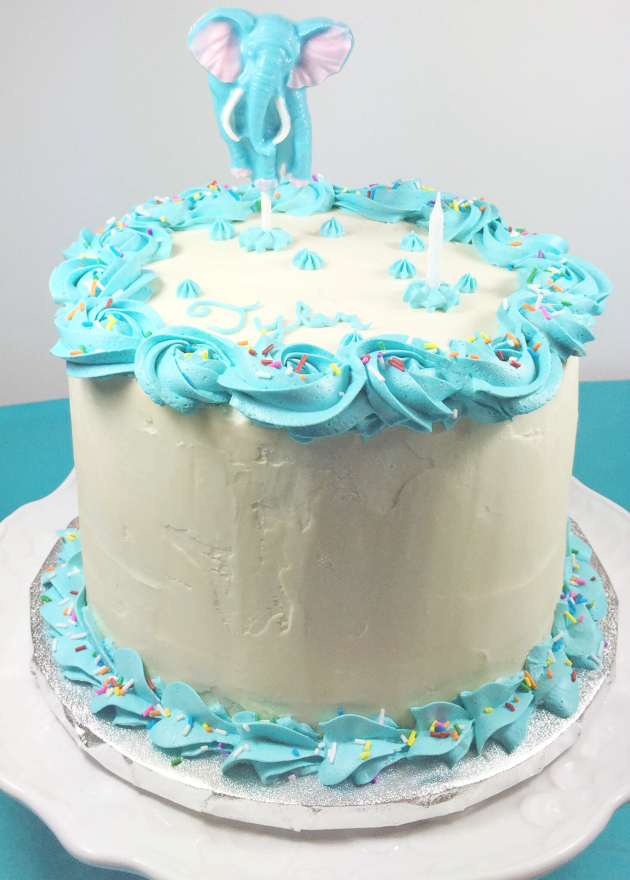 I used a chocolate elephant lollipop as the topper for my son's first birthday cake. This was an 8″ cake that was about 5.5″ tall. It may have looked disproportionate if I had centered the topper but I positioned it towards the back so I had room for the candle and to write my son's name.
Do you have any other ideas for using chocolate elephant lollipops?