I recently purchased a cute little heart punch to help my daughter make Valentine's Day cards for her preschool class. The little hearts were so cute I was inspired to make some adorable little heart cupcake toppers for Valentine's Day.
This craft is really easy but makes a statement on your goodies. You could easily whip up a batch of these little cuties in very little time. So far I've used them on my Valentine Rice Krispie treats but we're making Valentine cupcakes tonight and I can't wait to try them out.
I hope you like these as much as I do 😉
What You Will Need to Make Cute Heart Treat Toppers:
Red or pink paper
Toothpicks
Project glue
Easy DIY Heart Cupcake Topper for Valentine's Day
STEP 1
Take your paper and mini heart punch and make a bunch of cute little paper hearts. You will need two for every treat topper and a few extra just in case. Make sure you don't punch them too close together or you may end up with incomplete hearts.
STEP 2
Apply a thin coat of project glue to the heart ensuring that you get glue in the center and sides so the toothpick and second heart will stick.
STEP 3
Place your toothpick in the center making sure it's straight up and down and not off to the side. Add the second heart on top and press down on the sides. The heart will form around the toothpick and the shape of the toothpick will show through, but this will only happen on the back side, so don't worry. Wipe off any excess glue and let dry.
The front will show a perfect and cute little heart.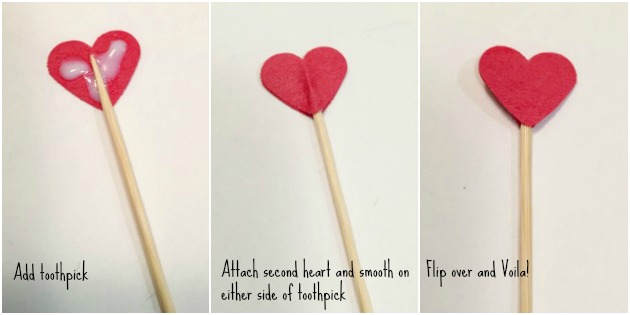 STEP 4
Add to cupcakes, Rice Krispie treats, muffins or any other Valentine confection you make.
(In case you're wondering, here's the recipe for my Real Strawberry Valentine Rice Krispie Treats.)
Happy Valentine's Day!!