It's a week into the New Year and so far I've done pretty well swapping in my holiday croissants in favor of a healthier breakfast. How about you?
This Green Mango Power Smoothie is my absolute favorite smoothie at the moment. An infusion of green veggies is a great way to start off the morning.  Even better that it doesn't taste like a liquid salad.
First, start off with a cup of frozen mango chunks. I adore mango, in case you couldn't tell from the title of this blog 🙂 . If you're adding greens to a smoothie then starting off with a base of sweet fruit is a good idea to balance the tartness of the veggies.
Next you can add either water, your vegan milk of choice or regular milk. I often do a 50/50 mixture of water and rice milk.
Spinach and kale provide a powerful punch of iron, Vitamins A and K and anti-oxidants. Be sure to wash all the spinach carefully, it's amazing how much dirt can hide in a bunch of spinach.
Wash the kale and remove the tough center stem. You can use any variety of kale you like but I prefer to use lacinato kale (also called black kale or dinosaur kale). This variety tends to be more delicate and has a slightly sweeter taster compared with green curly kale.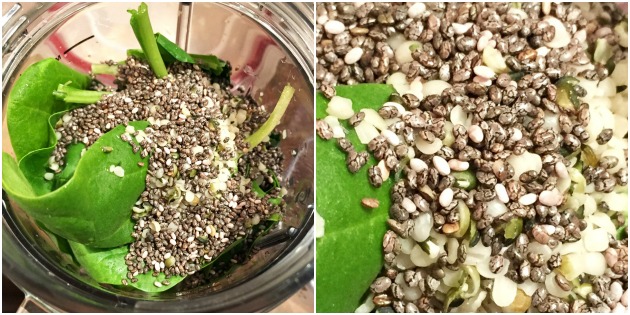 Measure in your hemp seeds and chia seeds.  I never noticed this before but when you look at chia seeds up close they sort of look like little snake eggs. Pretty cool, huh?
Add a dash of cinnamon and a tiny amount of stevia. I usually dip the tip of my spoon into the stevia jar and that's enough for me. You probably already know this but Stevia is super sweet and you can always add more but you can't take it away.
Blend until the mixture is creamy and smooth. If you need to you can add a little more water or vegan milk one tablespoon at a time.
In case you're wondering I made this smoothie using the Nutri Ninja Cup from my Ninja Mega Kitchen System. The Nutri Ninja Cup is perfect for a single serving and it breaks down the kale beautifully (it's basically like a Magic Bullet on steroids!)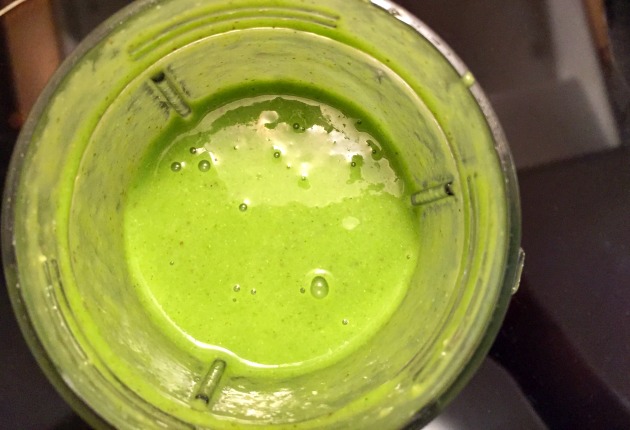 Don't you just love that color? The mango, kale and spinach combine to create a beautiful and vibrant shade of green. Drink up and enjoy!

Green Mango Power Smoothie
A yummy and healthy smoothie that is a great way to start the day. Also makes a great post-workout treat.
Author:
Mangoes and Mayhem
Ingredients
1 cup frozen mango chunks
1 cup rice milk or water
1 lacinato kale leaf, stem removed
¼ cup spinach
2 teaspoons hemp hearts
1 teaspoon chia seeds
Dash of ground cinnamon
Stevia to taste
Instructions
Add the mango chunks and rice milk or water to your blender.
Wash the kale and tear it into sections while removing the tough center stem. Add this and your washed spinach to the blender.
Sprinkle in your hemp and chia seeds.
Finish off with a shake of cinnamon and a little stevia. A little goes a long way and you can always add more later.
Blend until the greens have been thoroughly broken down and everything is combined smoothly.
Enjoy!