Have you ever had one of those days where time just seems to evaporate and suddenly it's dinner time? A bunch of hungry faces are staring at you expectantly and you've done absolutely nothing about dinner? I created this quick 'baked' beans dish (and I use the word 'baked' very loosely because all the magic happens on your stove top, not in the oven) for this very reason.
Most baked beans dishes require 3 – 6 hours in the oven or up to 10 hours in the slow cooker. If you're like me and you lack the ability to go back in time and start making dinner earlier, then this recipe is for you.
Quick Baked Beans Recipe
To make this recipe you will need a wok or high rimmed skillet (if you continue on and make the longer version of this dish you will need a lid). You'll also need canned pinto beans and the following pantry staples: blackstrap molasses, liquid honey, Worcestershire sauce, olive oil, paprika, sea salt, tomato sauce and an onion.
Chop your onion and saute with the olive oil over medium-high heat for about ten minutes.
Now, while your onion is cooking you can go ahead and work on what will go with your meal. Perhaps you get some basmati rice cooking in a pot and throw some veggies into another pan to stir-fry (chopped frozen veggies are great for a night like this).
Back to the onions. When the onions are nice and translucent you are going to turn the heat down to medium-low and add the liquid ingredients as well as the seasonings. Stir until thoroughly combined. Rinse your pinto beans and then add to the mixture.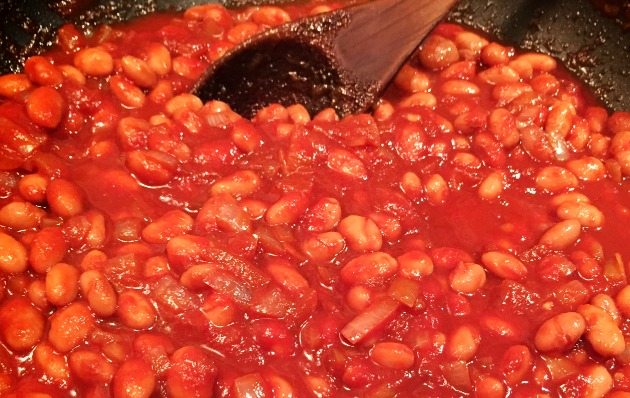 Now, you have two options.
If you are really pressed for time (you have a hungry preschooler pulling on your pant leg and you are at serious risk of being 'pantsed') then you can heat until everything is warmed throughout and serve as is. I do this often and it's really good.
But, if things aren't drastic or you've planned ahead a little, then you can continue to cook the beans over medium-low heat, stirring occasionally so they don't stick, to let the flavors enhance. (If you choose this option then you can hold off a little on the rice and veggies). If you're making a single recipe, I recommend covering with your lid and cooking for 45 minutes covered and then 15 minutes uncovered so the liquid can reduce and the flavors can concentrate. I recently made a double batch, which tends to be saucier, and cooked covered for 30 minutes and uncovered for 30 minutes. The depth of flavor was fabulous!
Enjoy!

Last Minute Quick 'Baked' Beans Recipe
If you're short on time but love baked beans then you'll love this recipe. Create a simple 'baked' beans dish in under 30 minutes in one pan on your stove top. If you have a little more time let the dish cook away for an extra hour to enhance the flavors.
Author:
Mangoes and Mayhem
Ingredients
3.5 - 4 cups pinto beans (28oz / 796ml can)
1 medium onion, chopped
1 tablespoon olive oil
Tomato sauce (14oz / 398ml can)
1 tablespoon Worcestershire sauce
1 tablespoon blackstrap molasses
2 tablespoons liquid honey
¼ teaspoon paprika
¼ teaspoon sea salt
Instructions
In a wok or high rimmed skillet (preferably one with a lid), saute onion in olive oil over medium-high heat until translucent, about ten minutes.
Turn heat down to medium-low and add remaining ingredients except for beans. Thoroughly combine.
Rinse beans and add to mixture.
OPTION 1: Heat until warmed throughout and serve. Total cook time 20 min.
OPTION 2: (If you have more time). Cover with lid and continue to cook on medium-low heat stirring occasionally. For a single recipe, cook covered for 45 minutes and uncovered for 15 minutes to reduce. For a double recipe cook covered for 30 minutes and uncovered for 30 minutes.
Notes
When making a double recipe you may find the dish gets a bit 'saucy'. You can either cook longer to reduce the liquid (option 2 above) or ladle out the excess and use it the next time you make pasta or pizza. Yum!
Serving Suggestions for 'Baked' Beans:
Use as a filling for burritos or soft tacos.
Similarly you can use them to make burrito bowls.
Combine with rice and slice an avocado on top.
Serve alongside scrambled eggs.
Spoon onto toast for a quick breakfast.
Baked bean quesadillas: slather between two tortillas and add shredded cheese or vegan cheese.