There's something so appealing about the bright yellowy-orange of orange curd, like a thousand tiny suns contained within a mason jar.
It may be raining today but I'm feeling the excitement of Spring. The flowers are blooming, tiny cherry blossoms line the streets and we've even had a few days warm enough to go without a jacket. My eyes may be itchy but my heart is singing.
Maybe it's the color? Maybe it's the flavor? The start of spring often finds me making orange curd, usually for filling cupcakes and cakes, but there are a whole variety of things you can do with it.
How to Make Silky Smooth Orange Curd
There is an ongoing debate about whether to use egg yolks or whole eggs when making curd.
Egg yolks will result in a richer curd and are easier to cook with. Egg whites, while lighter, have a tendency to curdle and unless carefully cooked will ruin the texture of your curd.
If you're looking for an easy and silky smooth orange curd then this recipe is for you.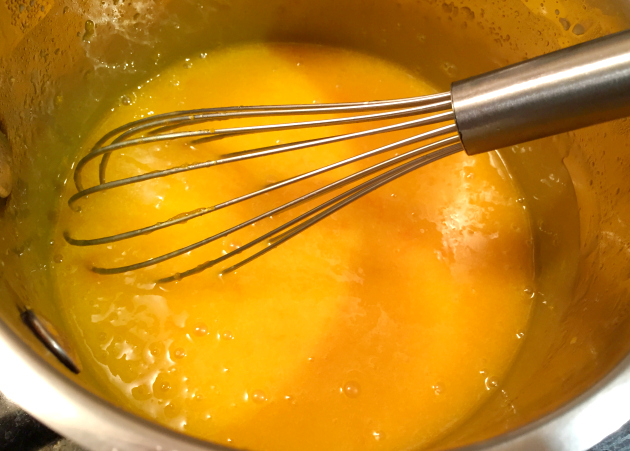 First you want to melt the butter over medium-low heat and then add the sugar, orange juice and zest. Once well combined add the lightly beaten egg yolks.
You will want to whisk the mixture continuously. You don't want poached eggs. Keep whisking and the heat will distribute evenly.
You also want to watch the thickness of the mixture because at the ten to fifteen minute mark you'll see a slight thickening (it's subtle) that lets you know the orange curd is done.
If you have a candy thermometer you can measure the temperature. Once it reaches  170C / 340F it's done.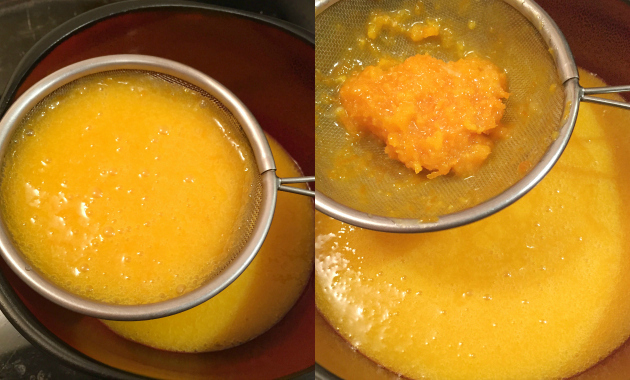 Remove the curd from the heat and immediately pour through a sieve to remove the zest.
Transfer to a mason jar and allow to cool with the lid off. Once cooled put the lid on and your orange curd will keep in the fridge for 1-2 weeks.

Silky Smooth Orange Curd
Smooth and zingy, perfect for filling cakes and cupcakes, spreading on toast or eating straight from the jar.
Author:
Mangoes and Mayhem
Ingredients
½ cup butter (4 oz / 115 grams)
¾ cup granulated sugar (5.3 oz / 150 grams)
½ cup fresh orange juice (approx 3 medium oranges)
3 tablespoons orange zest
6 egg yolks, lightly beaten
pinch of salt
Instructions
Zest your oranges, then cut in half and juice them.
Melt the butter over medium-low heat then add the sugar, salt, orange juice, zest and mix. Add the yolks.
Whisk continuously until mixture has thickened slightly (this will happen at 170 C / 340 F).
Remove from heat and pour through strainer to remove the zest.
Transfer to mason jar or other container and allow to cool with lid off. Once cool close the container and store in the fridge for one to two weeks.
Notes
The curd will thicken slightly at 170 C but won't thicken fully until cooled.
Make at least 3-4 hours before using or better yet the day before.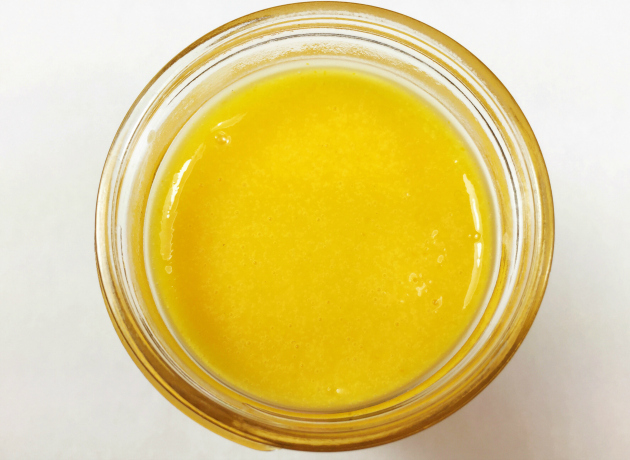 Ideas for Using Orange Curd
There are lots of delicious ways to enjoy your orange curd. Here are a few ideas:
Filling for cupcakes or cakes
Make orange curd buttercream frosting (recipe coming soon)
Spread on toast or muffins
Drizzle over pancakes or waffles
Spoon over ice cream
Make a yogurt parfait
Cheesecake topping
Filling for tarts
Do you have any other ways you use orange curd? Leave a comment below, I'd love to hear from you.