Slow cooker beef chili. This is one of those recipes that I keep coming back to again and again. This chili is rich and filling and this recipe makes a big batch for relatively little effort. It's perfect whether you're feeding a large family, taking it to a pot luck, or love the idea of cooking extra and freezing leftovers for easy meals later on.
This week the whole family was sick with a cold that just seems to keep coming and coming. When I felt it coming on I prepared a batch of this chili and it was a lifesaver. The hubby and I were too tired to cook all week so it was excellent to just be able to heat something up. Score.
When I first started making this chili I used to divide it between a 4 quart slow cooker and a 2.5 quart cooker. It was a bit finicky but it worked. But I finally upgraded to a 7 quart slow cooker and it's so awesome and easy to just mix it all up in one pot instead of dividing it between two.  
I have a big love for chili but I view pure beef and bean chili as a missed opportunity. With so many big flavors it's a chance to sneak in some vegetables. This recipe has 11 – 12 cups of vegetables hidden in a fragrant chili sauce!!! Isn't that great! 
For this batch I used onion, carrots, mushrooms, peas, corn and bell pepper but you can sub in whatever vegetables are in season or are your favorites. I'm thinking cauliflower, zucchini, celery, spinach, cabbage, parsnips. The possibilities are endless.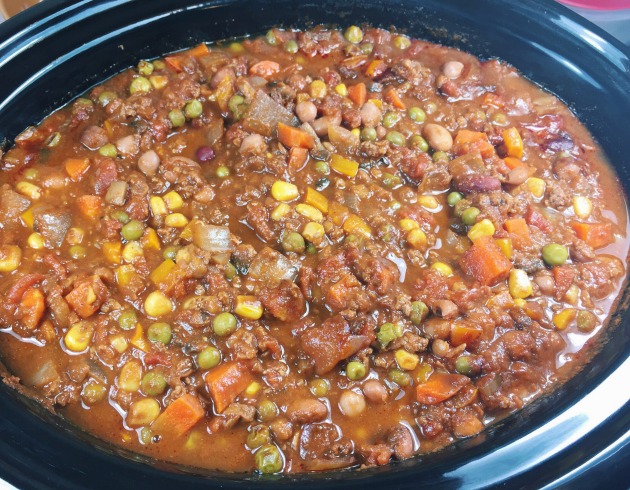 One thing that makes this a great family recipe is it's not overly spicy so kids and those who like their food on the mild side will enjoy it. What we do is put shakers of chili powder and cayenne powder on the table so those who like it hot can kick up the heat to their liking. 
Our favorite way to eat this dish is with a dollop of sour cream and grated cheese. So melty and delicious! And of course with slices of baguette. Yum!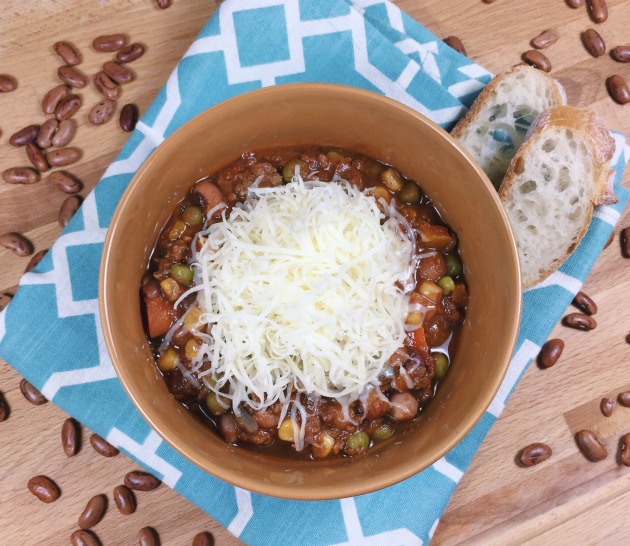 Super Veggie Slow Cooker Beef Chili
A rich and delicious beef chili that's packed full of vegetables. This recipe fills a 6 quart slow cooker so you can feed a hungry brood or freeze the leftovers for easy weeknight meals.
Ingredients
1.3 lbs ground beef (600 g)
1 medium onion (2 cups)
3 carrots (2 cups)
8 mushrooms (2 cups)
Frozen peas (2 cups)
19 fl oz (540ml) can of corn
1 medium bell pepper (1.5 cups)
3 x 19 fl oz (540ml) cans of beans*
2 x 28 fl oz (798ml) cans of diced tomatoes
12 fl oz (341ml) can of tomato sauce
1T garlic powder
3T cocoa powder
2t brown sugar
2.5T chili powder
2T seasoning**
2t dried oregano
½t cayenne powder
1t paprika
Instructions
Thoroughly cook the ground beef in a skillet then drain and add to the slow cooker.
Chop all vegetables into bite-sized pieces. Add to the slow cooker (except for the bell pepper).
Drain and rinse the beans before adding to slow cooker.
Add all seasonings and stir to evenly distribute.
Add the canned tomatoes (juices and all) and tomato sauce.
Give everything one more good stir.
Cook on Low for 8 - 10 hours or High for 4 - 6 hours.
During the last half hour of cooking stir in the bell pepper.
Notes
*Use whatever beans you like. I usually use two cans of mixed beans and one can of lentils.
**I use Kirkland Organic No-Salt Seasoning from Costco but you can also use powdered soup bouillon.

SERVING SUGGESTIONS: Salt and pepper. A dollop of sour cream and grated cheese go very nicely. Those who want more heat can kick it up a notch by adding more chili powder and cayenne powder,