I had so much fun after taking the first class that I couldn't wait for the next one. During the week I managed to get some practice time in with the handy-dandy practice board working on the techniques I learned in the previous class. It was fun to do the ones I was good at (leaves, stars etc) but even better to work on skills that needed improvement (hello shells and swirl drop flowers!).
I also tried out the various patterns with different sized tips. I discovered that although we practiced stars with tip 21 I have much better control when I use tip 18. It's so much easier to get the stars nice and tight together when using a smaller tip. The opposite seemed to be true with shells. We used tip 21 for those in class and I managed to achieve some semblance of regularity with my shells with that tip and the larger tip 32 (not included in the course kit, I previously bought this tip for my daughter's birthday cake) but with tip 18 they were a disaster.
Anyway, I'll talk more about shells in a minute when I discuss my graduation cake.
What You Need For The Condensed Class #2:
In addition to the items listed for the previous class (excluding the cupcakes) you will need –
Single layer 8″ cake
10″ cake board. (You can buy ready-made cake boards (that's what I did) or you could make your own by tracing a 10″ cake pan on one side of a cardboard box and then covering it with aluminum foil.)
Cake Box or something to carry your cake in.
Cake Turntable or equivalent. If you don't have a cake turntable then it's a great idea to bring something to slightly elevate your cake such as the base of your cake carrying case or a wood cutting board.
What You'll Learn In the Wilton Course 1 Condensed Class #2:
The second condensed class covers lessons 2 and 4. Both these lessons require a single layer 8″ cake on a 10″ cake board.
Cake Leveling: The first thing you will learn is how to level your cake. Your instructor will discuss cake levelers and you may even have the opportunity to try one out if she has brought one. I'm of the opinion that a cake leveler is something you don't need. At home I use a bread knife and in class my instructor showed me that you can simply use the edge of your spatula. Pretty handy. The main difference between the two options is that with a leveler you are slicing across the cake from one side to the other removing the rounded top and with a knife (or spatula) you are starting at the edge and working your way towards the center as you turn your cake. Depending on how long your blade is the leveling may take one or two rotations.
When I arrived at this class I didn't have a cake turntable. I didn't use one with my daughter's cake (I used a wooden cutting board and turned it as I went) and viewed it as a convenience rather than a necessity. My instructor let me borrow hers and let me say that while, yes, it is a convenience, it's an awesome one that I highly recommend. You'll be able to level your cake faster and it makes icing and decorating much easier too. A cake turntable was my first purchase right away after this course (in case you're wondering, this is the one I bought).
Torting & Filling: Although we didn't tort (cut the cake into layers) and fill this cake we did discuss the techniques. We talked about some of the different fillings you can use including jam, ganache or buttercream with crumbled cookies and about piping a 'retaining wall' of icing around the layer first to keep the filling from spilling out the side of the cake.
Icing: This part of the class was fantastic. As I mentioned in my previous review I learned that I was using the wrong consistency of icing when I made my daughter's cake. So for this cake we thinned down the icing by mixing in 1 teaspoon of water at a time until thin consistency had been reached. Then I learned the Wilton method of icing a cake that omits the need for a crumb coat. This is fantastic because it really speeds up the icing process. What you do is apply an excess of icing so that your spatula is only moving the icing around and never touching the cake (which would result in crumbs being picked up and incorporated into the icing). It takes a little bit of practice to get the hang of the movement but once you get it you're going to love how much time it saves.
Once you have the icing applied to the top and sides of your cake you are going to remove some of it in order to achieve a nice shape for your cake. Starting with the edges you are going to turn the cake while pressing the edge of the spatula against the side of the cake until it's smooth. This is where the turntable comes in super handy. Next you're going to come across the top from the edge into the center. This creates a nice edge and top for your cake. It's very hard to get the surface completely smooth so think about where you're going to place your design elements on top. You can sweep the icing across to this location so any spatula marks will be hidden. In my case it was the center under the roses. Although we didn't do it in class we did discuss the technique of using parchment paper and either your hands or a spatula to smooth the icing.
Piping Gel Pattern Transfer: If you were to take the regular classes, then lesson 2 would see you make a cake with a piping gel transfer pattern. There are a few designs included in the student kit including an adorable owl, a giraffe and a cupcake. For the condensed class you will not be making this cake but your instructor will give you a demonstration of how to make the transfer and how to execute it and fill it in. Based on watching the demo I think I could muddle my way through this on my own and make it work.
Ribbon Roses: The type of rose taught in this beginner course is the ribbon rose. For this you will need stiff icing and two decorator bags fitted with couplers and tips 12 and 104. You will also need your flower nail and small parchment squares (you can cut these yourself, make sure the parchment square is a slightly bigger than the head of your flower nail). Next you're going to secure the parchment to the nail with a dab of icing and then use the number 12 tip to pipe a Hershey's kiss-shaped mound. Next you'll use tip 104 to make three to four rows that represent the petals. The first wraps around the mound like a scarf and each additional row opens up slightly more. Your instructor will show you the correct positioning for the bag and tip for each of the rows.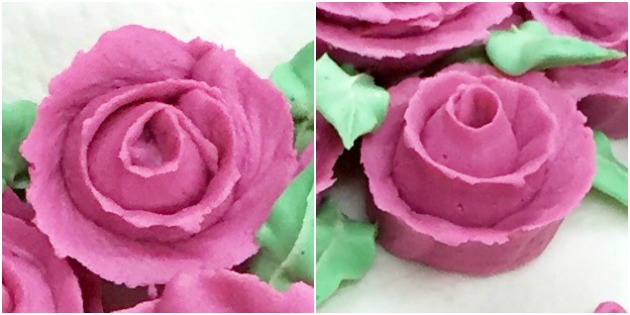 Here's a closeup of two of my roses. I just did three rows and as a first attempt I'm happy. Not thrilled with the way my edges waver but as I said, this was my first try and practice makes perfect. My instructor's roses were so beautiful and life-like. I certainly hope one day mine will be as good as hers.
We had some extra time so as a bonus I also learned the Wilton Rose. This is my favorite of the two roses because you create actual petals. The set up is the same, two bags, tip 12 and tip 104, the initial Hershey's Kiss and wrap-around 'scarf'. Then you create a row with 3 petals and a row with 5 petals. You can stop right there or make a full Wilton Rose with a final row of 7 petals. I made this rose for my husband's birthday cake and will link to it when it's posted so you can see a photo of it.
Writing: Another thing you'll cover is writing since that can be an important component of a cake. We didn't do any practice but did discuss it (and I did some for my final cake). She suggested that if printing it's a good idea to trace out your message with a toothpick but if using cursive writing then just let it flow. I used cursive writing for my cake and out of this and the two cakes I've done since taking the course I'm actually happiest with the writing on this first cake. I took my time yet I didn't overthink it or try to mimic another style of writing. Since this cake I think I've been overthinking things.
Wilton Course 1 Graduation Cake
Now onto the nitty gritty of my cake. Gotta say I'm thrilled with how this cake turned out. And I learned so many helpful things while making it too.
Blending: I chose burgundy for my roses because I wanted them to be pinkish but not bubblegum or Barbie pink. Generally I'm not a pink kinda gal. Burgundy is kinda a plumy color which is very nice. So, I mixed the icing for the roses and then received an awesome tip from my instructor that I've used for every project since. When mixing your leaves, use your green gel coloring and then add about a teaspoon of icing from the roses. This way the green color will tie in better with the flowers and be more visually appealing. Brilliant, right?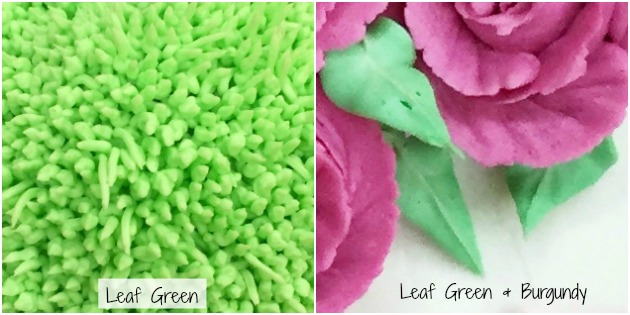 So look here. I started with the leaf green I used for the grass cupcake and then all I did was add a teaspoon of the tinted burgundy icing and look at how it altered the color. Doesn't the resulting leaf color look so much more appealing with the roses than the original leaf green would have?
Shells: I said I'd come back and talk about these little suckers again. This technique was probably the hardest for me to master (and I use that word loosely, I'm still not perfect at it but I can fake it). So of course I had to challenge myself and use this as my cake border. Between conversation with the instructor and practice at home we determined my issue was timing. What you need to do is hold the bag at a 45 degree angle and squeeze the icing out. The trick is to hold the bag still until the icing has had enough time to anchor and then fan forwards (I always pulled away before the icing had enough time to make this forward movement). Then you need to move the tip up slightly to allow the icing room to build a little height and then pull back and down as you ease up on the icing. Stop piping as you bring the tail to a point.
Here's a close-up of my cake border. Overall I'm pretty pleased considering how hard shells were for me to learn. Still need to work a little on my control and maintaining regularity. Piping the final shell (or any motif) in a cake border is a challenge. You can try to tuck the tail under the first one using a toothpick or you can pipe a little extra blob of icing to fill in the gap and declare it 'the back of the cake'. So pay attention to where you start and finish your border, especially if there's already another quirk you want to hide at the back of the cake.
Putting It All Together:
Here's my graduation cake.  This cake was leveled, iced and decorated in about 2.5 hours (of course with talking and question time happening throughout – I could do this cake much faster now).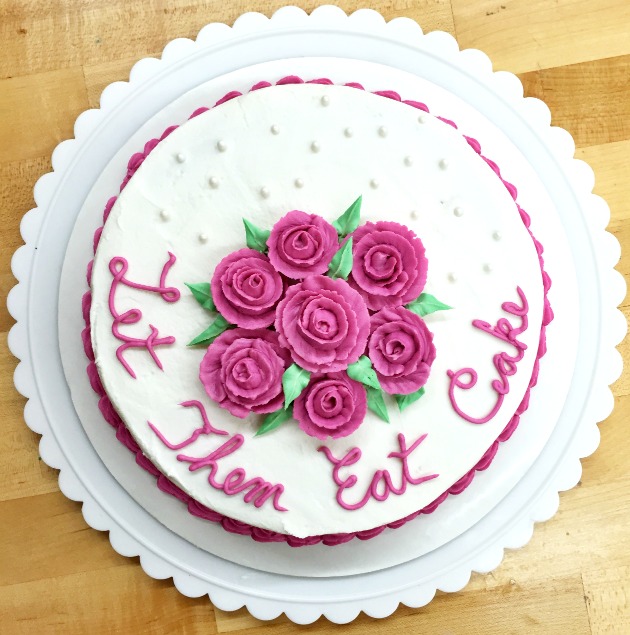 First I leveled the cake and affixed it to the cake board with a dab of icing. The cake was inverted so the freshly cut side was face down to avoid crumbs during the icing process. Then I thinned the icing, iced the cake and smoothed the surface as best as I could. I mixed the rose and leaf colors and filled the decorating bags. I made all the roses and placed the parchment squares on my practice board. My instructor put the board in the fridge so they could harden while I worked on the rest of the cake.
I piped the shell border next taking my time and trying to get into a groove with it. Sometime it was perfect, other times I lost it a bit but I always slowed down and took the time to get back on track.
By the time the border was complete the roses were stiff enough to place on the cake without breaking or warping. I decided to place them in the center and piped a mound of icing in the center with my #12 tip so the center rose would be elevated a little. I chose the biggest rose for the center and tried to pair up the other roses so similar sized roses were opposite one another. Using my spatula I lifted the rose off the parchment square and brought it to the mound of icing. I used a toothpick to help slide it off the spatula and position it onto the mound. I repeated the same procedure with the remaining roses. Then I piped the leaves using tip 352. For the leaves by the center rose, I made sure I didn't put the tip too close to the roses. I had to squeeze long enough for the icing to reach the cake and anchor before the leaf shape would form.
Next I did the writing. The book says to do writing first and I think this is a good idea if your design features the writing off to one side. But with my roses in the middle it didn't really affect the writing space and it would have been harder to do the writing first. This wasn't an occasion cake, it was a 'just because' cake so I initially wasn't sure what to write. I decided on the famous quote attributed (possibly incorrectly) to Marie Antoinette 'Let Them Eat Cake'.
After decorating with roses, a border and the writing but my cake still didn't feel done. I didn't like all the blank space on the other side of the roses. My instructor offered me some of her white edible pearls and they were perfect. They added a nice texture that mixed things up a bit and was very visually appealing.
Conclusion
Overall I'm very happy with this course. I learned a lot of valuable skills that have helped me tremendously during and since taking the class. Because the class was condensed (2 x 3-hour classes instead of 4 x 2-hour classes) I didn't get to do all the techniques first-hand. I'm okay with that but it's something you need to think about when choosing between the regular and condensed classes. Also, since I was the only student it was essentially a private class. I think if the condensed class had been packed with 8-10 students then it may not have allowed for enough time for instructor feedback.
Main Differences Between the Condensed and Regular Classes:
You have one class to learn all the piping techniques and practice them on six cupcakes instead of one class with cupcakes and one class with cookies.
You only decorate one cake instead of two. With the condensed class you watch a demonstration of gel piping transfers and complete a single layer cake with roses and writing. With the regular classes you complete two cakes and get hands-on experience doing the gel piping transfer as well as the cake completed during the condensed classes.
Possibly you may learn a few little extra tips during the regular classes since you have an extra two hours of instruction.
Condensed Classes Are a Great Choice if:
You don't have time in your schedule for a four-week course.
You catch on to things quickly and are comfortable figuring out some things out on your own.
There are no more than five students in the class**
Regular Classes Would Be Better if:
You are completely new to baking and cake decorating. You've never dabbled with buttercream before.
You need a little extra time to learn new things.
The class size is larger**
Before the final class ended I had the opportunity to go through the student guide with my instructor and ask any questions that came to mind. There were a number of pictures where I could tell which tips or techniques were used to create the design but several I had no idea how to execute. My instructor discussed each scenario with me so that I could replicate the designs on my own.
Let me mention once more about how fabulous my instructor was. She was amazing. So skilled, so knowledgeable and so patient. I didn't have all the right tools during my first class so she let me borrow hers (this wouldn't have been possible if this had been a full class, so do come prepared).
I've left the Wilton Course 1 Building Buttercream Skills class on a cake decorating high and have completed two cakes since. I've learned so much on my own with each cake and will share them with you soon.
I'm all signed up for the second course, Flowers and Cake Design, and can't wait until class begins next month. This course is four weeks with two hour classes each week. Michaels has a rotating schedule so fortunately next month the class falls on Saturdays so I can take it, yay!
Check out my review for Wilton Course 2 Lesson 1.
**Update. Since writing this post I've witnessed my current instructor teach a condensed class with about ten students. She stayed after class for an extra hour to answer any questions and make sure everyone understood the techniques. If your instructor is willing to go the extra mile like this then it shouldn't be a problem being part of a larger condensed class.