Spaghetti is a guilty pleasure. So delicious but so many carbs….
We're always on the lookout for healthier alternatives to spaghetti. I recently came across these edamame spaghetti noodles and thought they'd be fun to try.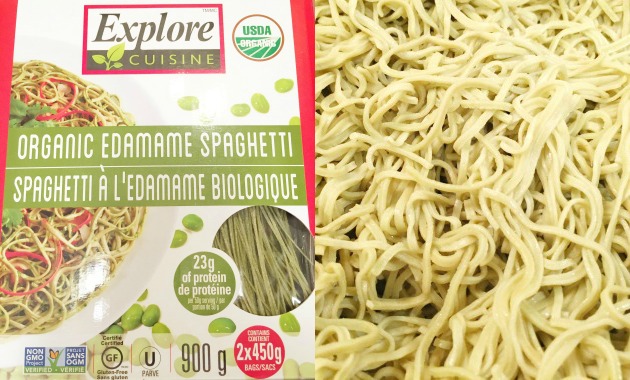 One of the things that first caught my eye was the label indicating 23g of protein per 50 gram serving of noodles (for comparison, 50g of standard run-of-the-mill spaghetti has ~6.5g of protein). It really packs a nutritional punch if you're looking to add more protein to your diet.
I also like how these edamame noodles are non-GMO and organic. The box says to cook for 4-5 minutes and that timing is bang on. These noodles cook super fast so you'll want to get the sauce and everything else ready first and cook these babies last.
Edamame spaghetti noodles have a mild flavor that pairs very well with a pesto sauce. This pesto is made with basil leaves and spinach for an iron boost (shhh, don't tell my daughter).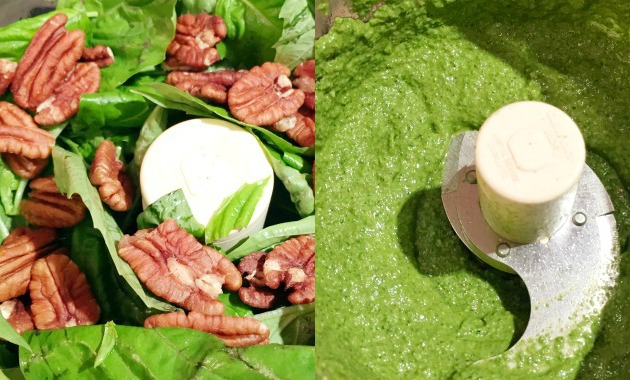 The pesto is pretty easy to make while the other ingredients are cooking but you could also make it ahead of time on the weekend to speed up your weeknight meal prep.
The verdict? My 5 year-old (who despises most vegetables) absolutely loved this meal. She ate the whole bowl!! Definite win.
Any meal that can be enjoyed by both adults and a picky eater is a keeper.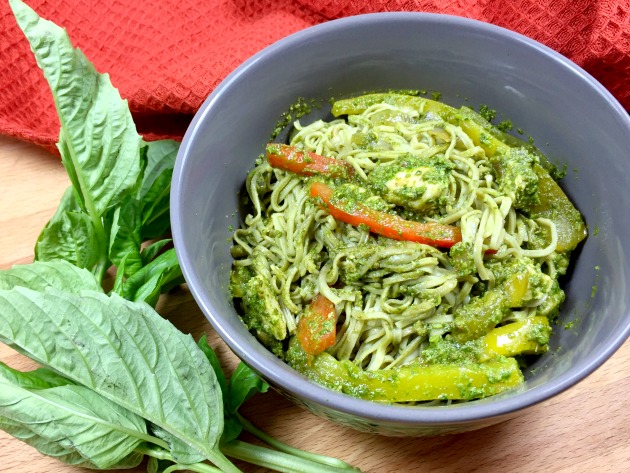 Pesto Chicken with Edamame Spaghetti Noodles
A flavorful and protein-packed dinner that comes together easily. Kid approved!
Ingredients
Cooking oil (avocado oil, grapeseed oil etc)
2 chicken breasts
½ medium onion
2 bell peppers
450 grams edamame spaghetti noodles
Grated parmesan cheese
PESTO SAUCE:
1 cup basil leaves
1 cup spinach leaves
⅓ cup pecans
2 cloves garlic
Juice from ½ lemon
½ cup olive oil
½ teaspoon sea salt
Instructions
Cut the chicken into cubes and pan fry in 1 tablespoon of cooking oil until thoroughly cooked. Set aside.
Make the pesto: Add basil, spinach and pecans to food processor and pulse until finely chopped. Add garlic, lemon juice, olive oil and salt and pulse until smooth.
Cut the onion and bell peppers into strips. Saute in 1 tablespoon of cooking oil until soft. Add pesto sauce and chicken and stir occasionally over medium-low heat.
Bring water to a boil and add a splash of olive oil. Add edamame pasta and cook 4-5 minutes until tender. Drain.
Serve the edamame spaghetti noodles topped with chicken pesto sauce and garnish with grated parmesan cheese.